Yesterday, I didn't have much time to fit in a workout, but I wanted to get something good in anyway. Here's what I ended up doing. This works out your entire body (upper body, core, and lower body) while getting in a good calorie burn through the cardio intervals. If you have more time, repeat the cardio intervals and strength set a third time!
Pro Tip
: if you don't take any breaks between sets, you get done faster and also rev up your metabolism more by keeping your heart rate up!
(1) 5 MINUTE WARM UP POWER WALK
For me, that's walking at between 4-4.5 MPH. As I've noted before, all speeds are for my 5'9" frame. Figure out what a "power walk," "jog," "run," and "sprint" are for yourself.
(2) CARDIO INTERVALS - 5 minutes
Sprint @ 8 MPH for 1 minute
Jog @ 6 MPH for 1 minute
>> Alternate for 5 minutes (so you do three 8 MPH minutes and two 6 MPH)
(3) STRENGTH SET
Squats - x25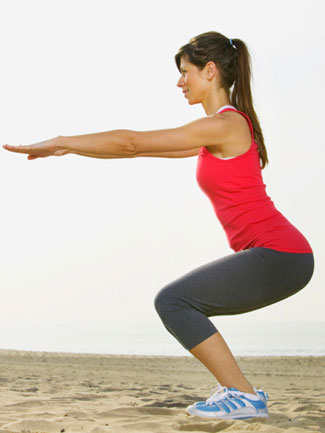 Tip 1: keep your back straight and your weight in your heels and sit as far back as you can without falling over
Tip 2: for added difficulty, hold a medicine ball like a ballerina (arms curved)
Push Ups - x25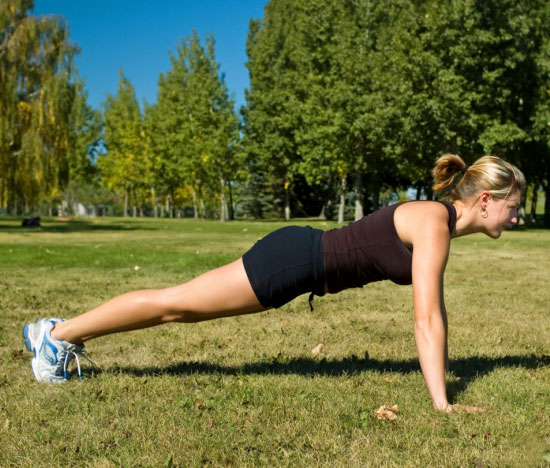 Tip 1: if you can't do 25 push ups -- do as many as you possibly can in the regular position, then let your knees touch the ground (making sure that your body is a straight line from your head to your knees) for as many modified push ups as you can do
Tip 2: some great ways to perfect your push up form are here.
Plank - hold for 1 minute
You have two options:
Option 1
Tip: make sure your body is a straight line from head to feet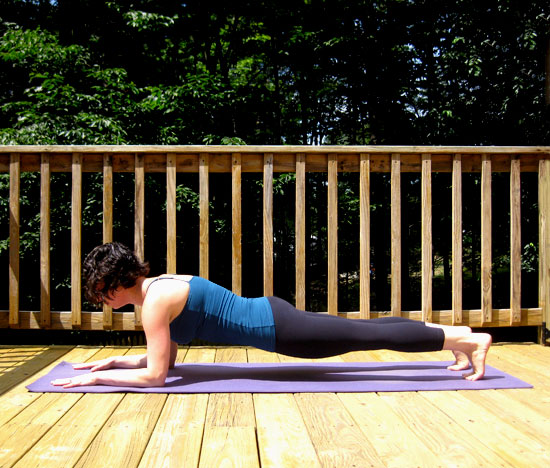 Option 2
Tip: the further apart your arms are, the more challenging the plank is
Lunges w/ shoulder press - x20 each side
Hold 8 lb weights in each hand, making "touch down" arms that go up to straight arms as you go down into your lunge.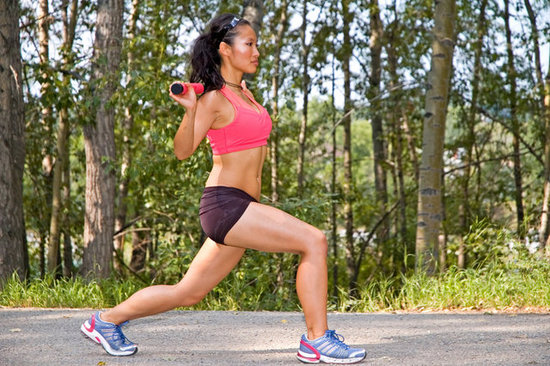 Tip 1: make sure your front knee does not go past your front toes
Tip 2: your movement should be straight up and down, not forward or backward
Tricep Dips - x15
Tip 1: keep your body as close to the bench as possible for maximum emphasis on your triceps
Tip 2: the straighter your legs are in front of you, the harder the dip is
Tip 3: more pointers on tricep dips here.
(4) REPEAT Cardio Intervals - 5 minutes
(5) REPEAT Strength Set
(6) STRETCH
It's so important to stretch as you feel things tightening during the workout. For example, the backs of my legs are super tight, so I often do leg stretches in the middle of my workout as I feel them getting too tight. And, of course, stretch at the end as well!
Summary
1:
5 minute power walk warm up
2:
5 minute cardio intervals
3:
strength set
- squats x25
- push ups x25
- plank for 1 minute
- lunges w/ shoulder press x 20 each side
- tricep dips x15
4:
repeat cardio intervals
5:
repeat strength set
6:
stretch
All pictures are from FitSugar.
Questions? Suggestions? Do you like using cardio intervals? Let me know in the comments!