I have no idea how to start this recap because two things happened at the NYC Half: (1) I finally broke 2:00 and finished in 1:58:46, and ( 2) I felt absolutely terrible during the race.
So, let's start at the very beginning. A very good place to start (name that movie/musical!).
Gear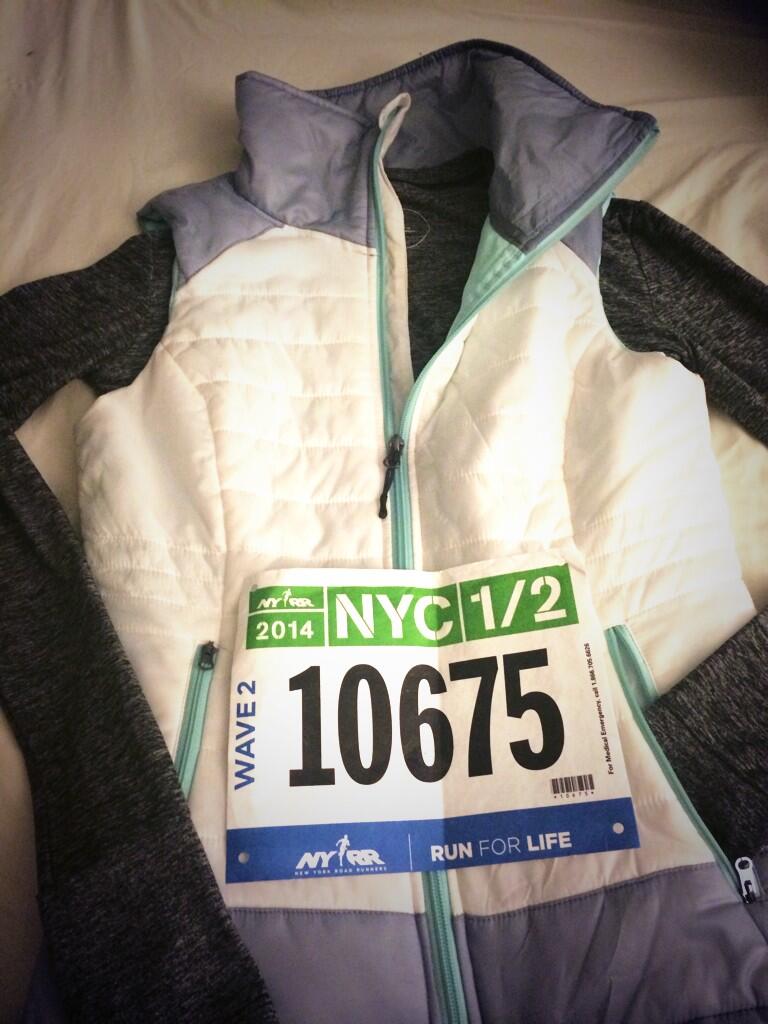 It was "feels like 23 degrees" at the start and was about 31 degrees for most of the race, but other than my face, I felt plenty warm in this outfit. I was on the fence about the Mizuno Wave Inspires for a while after I got them, but this winter I've really started liking them, and they felt great during the race.
Pre-Race
I wasn't able to do any runs the week before the race because I was so busy at work (the shortest day, I billed 12.7 hours) and Jess said to prioritize sleep over getting a run in. However, I was able to manage a 20 minute shake out run Saturday, taking advantage of the gorgeous, spring-like weather.
I woke up at 6:40 AM after sleeping terribly. I had decided to treat the race pretty casually when I saw how busy my week was going to be at work, so I wasn't extremely anxious. I still had that stomach flutter I get for all races, but I wasn't feeling the pressure of great expectations, which helped. I think my nausea had already started a bit, since I wasn't interested in food at all and barely got down 3/4 of a Picky Bar.
I took a cab to Columbus Circle then jogged to the entrance at 6th Avenue and Central Park South. It was pretty cold out, but since I was moving continually, I didn't notice it as much as I did last year when I waited for 30 minutes in my corral. I met up with
Brittany
and we jumped in my corral. Brittany had been sick the previous week with strep throat and wasn't so sure about how the race would go, but we wanted to start together at least.
Almost immediately after we'd started chatting, the crowd started moving forward and just a few minutes later we were crossing the start line. "Are we really about to run a half marathon?" Brittany asked.
Central Park
The new course that NYRR designed meant that we immediately climbed up Cat Hill then continued on the main Central Park loop. I was not a fan of the additional out and back they added at the top of Central Park. We ran out of the Park, along 110th Street up a gradual incline, around the Frederick Douglass statue, then back to where we exited and entered the park to run up Harlem Hill. The out and back just felt so tacked-on and the road was in pretty bad condition. I could easily see people tripping.
After Harlem Hill, which Brittany and I were both happy to be done with, we saw Sourabh cheering with Mason at 96th Street. Shortly after we saw Fiona cheering -- hey, Fiona! I knew I should try to fuel around then, so I popped a chew in, but I could barely get it down. I had started feeling a bit lightheaded and didn't try to keep eating the chews.
(1) 9:03
(2) 8:43
(3) 9:04
(4) 9:06
(5) 9:03
(6) 9:00
Midtown
After we exited the park, I got down about 3/4 of a gu between miles 6-7, but that was the last fuel I had. As the race progressed, I just kept getting more and more lightheaded, and I'm sure that was due in part to fueling, but I also felt nauseous and the thought of trying to get down more chews seemed impossible, so I just drank water from several aid stations.
Thanks for taking this awesome picture, Kim!
We had a great pick-me-up at 52nd Street, seeing
Beth
,
Kim
,
Allison
,
Leticia
and
Bernadette
(did I miss anyone??), but after we hit a killer wind running east on 42nd Street, I think Brittany and I both felt like we were over the race. We both started listening to music. Huge thanks to Ke$ha and Pitbull for their fantastic duet, "Timber," which really got me through a tough time. What can I say, I love shitty music when running.
(7) 9:08
(8) 8:52
West Side Highway
By mile 9 or so, Brittany said her legs were just done, so we eventually parted ways. Those West Side Highway miles were the worst because I was feeling incredibly lightheaded. I'm not sure where it came from -- although I'm guessing my fairly sleep-deprived state and inability to take in much fuel had something to do with it -- but from roughly mile 6 or 7 onwards I felt lightheaded and somewhat nauseous. I kept wondering if I might pass out or throw up. I didn't, though, and each time I saw my pace drop too much, I just kept thinking about the people in my life who are going through way worse shit than a race that they chose to run not being perfect.
(9) 9:08
(10) 9:17
(11) 8:59
(12) 9:16 [<-- I think this mile is messed up because I had overrun the course by .1 until the large buildings in the Financial District and the tunnel, and then my watch said I finished in 13.11; this mile was probably a bit faster]
Finish
Last year, I hated the Battery Park tunnel, since it seems to go on forever. This year, I loved it because it meant we were almost done and it was a bit less cold than the highway. As we emerged, I tried to push with everything I had left, but there just wasn't a ton left. I think the lack of fueling probably really hurt me when it came to that last mile, but I still was able to kick it up a bit.
(13) 8:45
(.1) ?? [tall buildings messed it up, it says 12:00 and there's just no way]
Post-Race
As I crossed the finish line, I stopped my watch and looked down with an "oh, 1:58, cool" shrug. It's funny that something I worked so hard for last year felt good, but not overwhelmingly exciting. It was almost an after thought to the happiness that was no longer having to run. My primary thought was, "where is Sourabh, I need someone to get me out of here because I am too woozy to navigate on my own."
After walking through the exit chute for what seemed like forever (but let's be honest, it was probably no more than a half mile or so), Sourabh and I were able to meet up. He gave me a big hug and helped guide me to the subway. As soon as we got home, I ate a bowl of cheerios (basic carbs were all I wanted) then slept for two hours.
After a nap and some food, I think I'm happy with my time. I am 99% sure I could run a faster half, especially on a flatter course when it wasn't below freezing and I wasn't sleep-deprived and incapable of fueling, but I have finally reached my goal of going sub-2, and that's pretty damn exciting.
SO MANY THANK YOU'S to
Coach Jess
! I have no idea how I would have navigated training for this half marathon and working an increasingly demanding job without her help, giving me guidance on what workouts to prioritize and which would be okay to skip. Jess: you are the best!
Did you run the NYC Half? If so, how did it go? Post your recap here, I want to read it! Super curious about how everyone else's races went.