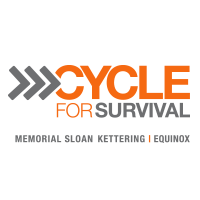 As I mentioned in
my Surf City Half Marathon race recap
, I am trying to concentrate on the rest and recovery portion of training. However, when I read about Cycle for Survival, I decided to do something that would have me cycling for two hours on Sunday, only one week post-goal race. Not the best recovery, but it's worth it, because I'm cycling for something much more important than any run or race.
I received an email from Equinox about Cycle for Survival and immediately knew I wanted to take part. The fundraiser raises money for Memorial Sloan Kettering, "the world's oldest and largest private cancer center," and 100% of funds go to research of rare cancers. Roughly 50% of cancer diagnoses are actually for rare cancers. That includes pancreatic cancer, which my grandfather had before he passed away from related illnesses, and all pediatric cancers.
My closest friend passed away in April 2014 after an ongoing fight with a rare pediatric cancer. She was the smartest person I've ever met, but unlike most of the top students at our undergrad, she did not aspire to go into the financial or consulting sectors to get a big paycheck. She wanted to become a pediatric oncologist and help those who faced the same battle she waged in high school. Katie was re-diagnosed after we graduated, during her gap year. She postponed medical school for a year as she went through incredibly invasive and painful treatments. She was cleared for a year and went to University of Chicago Medical School, where she'd received a full scholarship. But her cancer returned in 2013, and despite a clear scan that fall, the follow-up scan in January 2014 gave a clear diagnosis. There was no new treatment to try.
I wish I had gone into the sciences and could help with the incredible research being done at Memorial Sloan Kettering. As it is, I will do my best to support the work they are doing to help find new treatments and, hopefully one day, a cure for cancer.
This week, I am supporting MSK through Cycle for Survival. I've put together a team of coworkers who are also committed to supporting cancer research. In addition to my donation, I am cycling for the first two hours of our shift.
If you would like to help me support the incredible work being done at Memorial Sloan Kettering, please consider making a donation to my team. If you'd like to read more about Cycle for Survival, please check out the Cycle for Survival website.
Thank you!